---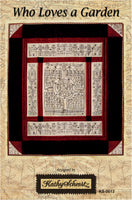 Who loves a garden, still his Eden keeps. I've always loved
that saying. This embroidery piece captures all the things that make a garden one of those peaceful places I like to spend my summer days. The pattern is to scale. The finished piece measures 32" x 38". 


This is a listing for a PDF pattern only which will be emailed to you.  The pattern is in reverse for use with freezer paper tracing method.